JS SYNC (NO ADBLOCK BYPASS)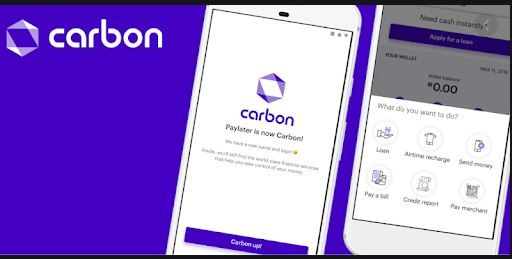 Carbon Loan: Easy Steps To Get A Loan In Nigeria
Are you looking to get a loan from Carbon and not sure how to go about it? Look no further, as this article contains what you need to know about carbon, how to get a loan on carbon, and other important information.
What Is Carbon?
Formerly Paylater, Carbon is a leading Nigerian digital lending company. It is licensed by the Central Bank of Nigeria to operate as a microlending platform. It has other branches in South Africa, Ghana, Portugal, and the United Kingdom.
With Carbon, you can get a quick loan in less than 30 minutes, with no paperwork or collateral, and at any time and any day. Carbon also offers a digital wallet from which you can deposit, withdraw, and transfer money to banks.
Requirement To Get A Loan On Carbon APP
In order to be able to take loans on carbon, you need the following:
Have Carbon loan app installed on your phone.
real-time photo (taken during the application)
Your personal details (name, phone number, email address, home address, etc.)
Bank verification number (BVN)
Bank account details
Debit card details (for repayment).
How To Get A Loan On Carbon App
Below is the step-by-step process for obtaining a loan on carbon.
Install Carbon app from the Play store or App Store
Allow Carbon app access to your location, storage, gallery, and message
Sign up by filling in the requested details (name, phone number, email, etc.)
Take a real-time selfie or photo
Now, tap on the "Request for Loan" option provided
Follow the instructions by filling in the requested information
Confirm your Bank Verification Number(BVN)
Wait while your eligibility is reviewed
From your eligible loans, select your preferred loan
Choose any of your preferred repayment terms
Apply
Wait for approval
Once approved, you will get credited to your wallet instantly. Hence, you can transfer to your local bank account or use it to pay bills directly.
How much loan can I get on Carbon App?
On Carbon, if it's your first time, you did get a low sum. Then, when you repay, your eligibility increases. At maximum, you can get loans up to N1 million at a time, depending on your credit score and bank history.
Carbon loan interest rate
Carbon loans offer one of the lowest interest rates, ranging from 5% to 15%. It all depends on your bank history, eligibility, and credit score.
Carbon loan repayment term
The repayment term on carbon ranges from 30 days to 12 months, depending on the size of the loan and the borrower's set repayment date.
How to repay Carbon loan
Repaying a carbon loan is very easy and fast. Since you have already linked your debit card, which you will be repaying with. Just fund your bank account with the required repayment sum, then login to your Carbon app and tap on the "repay loan" option. You are debited instantly, and your debt is cleared on your dashboard.
How to contact Carbon Loan customer support
If you experience any issue or glitch when applying for a loan or repayment on Carbon, you can submit a complaint to customer support via email at customer@carbon.ng or call 01-631 1215.
Carbon Loan Head Office Address
Carbon Loan Head office is in Lagos, at Plot 1224, Bishop Oluwole Street, Victoria Island, Lagos State, Nigeria.
Bottom Line
Carbon Loan is one of the most popular mobile lending platforms in Nigeria currently due to its low interest rates, instant loans, considerate repayment terms, and easy app interface. Download the carbon loan app on Play Store or App Store to get an instant loan. Repaying your loan on time helps boost your credit score and increases your eligibility.
Remember to only borrow what you can pay at a set date to avoid regrets.