Fairmoney Nigeria has completed the acquisition of payforce (a sub-brand of YC-backed CrowdForce), a merchant payment service that serves small businesses, as the digital lender looks to broaden its financial services proposition to merchants.
There are about 100 million MSMEs in Africa, 42 million of which are in Nigeria. By 2025, consumer payments in Africa are predicted to total $2.1 trillion, yet just 5% of these transactions are now digital, making it challenging for businesses to smoothly collect payments. payforce has over 10k downloads on playstore and serves thousands of businesses in Nigeria.
Banks, fintech companies, and mobile money providers are creating creative solutions to take advantage of this opportunity, as well as the fragmented African payment landscape and the need for financial inclusion.
In order to expand its financial services offering to merchants, Nigerian credit-led digital banking platform FairMoney has acquired PayForce (a sub-brand of YC-backed CrowdForce), a merchant payment service that caters to small businesses.
According to a statement they shared on their twitter handle @mypayforcebyfairmoney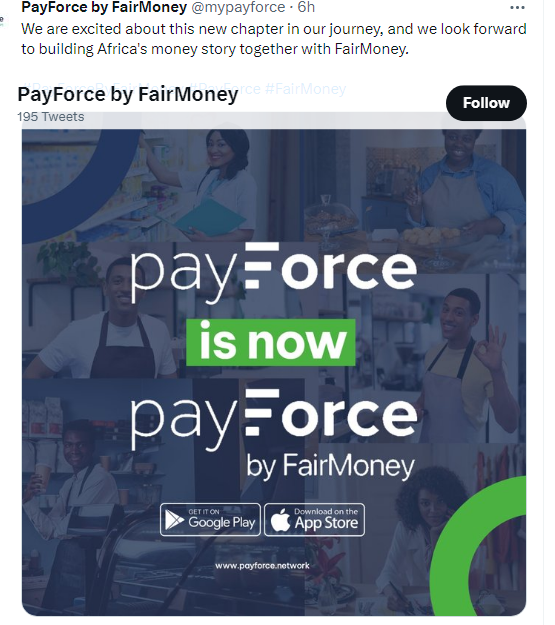 With the acquisition of PayForce, FairMoney has taken on the daring goal of increasing its merchant base to 100,000 merchants in Nigeria, while building a robust network of financial services points to aid small businesses across the country.